Winter Break Camps in Pearland
Are you looking for a new activity for your child during the winter break or school holiday? Space City Fencing Academy offers winter break/holiday camps in Pearland, Texas, and the nearby areas. Children can learn the art and technique of fencing in an exciting and engaging environment.
Experience Our Winter Break/Holiday Camps
We offer winter break/holiday fencing camps for beginner students and those with more experience. Children can spend the school break or holiday season with our community as they fencing basics and enjoy a wide range of sports activities. Our world-class instructors create the perfect blend of fencing knowledge and fencing fun into a program where students:
Build physical fitness

Increase their social skills

Enjoy brain-stimulating board games (chess, monopoly, checkers, etc.)

Engage in indoor games, such as dodgeball

Learn fencing strategies 

Warm up with footwork exercises and other team-building games
Space City Fencing Academy offers camps with a half-day or full-day option to make scheduling easier for parents. Whether you want your child to spend all day with our camp or you have other activities planned during the day, your child can enjoy learning with our instructors. Contact us to learn how your child can enjoy a creative outlet during the school break.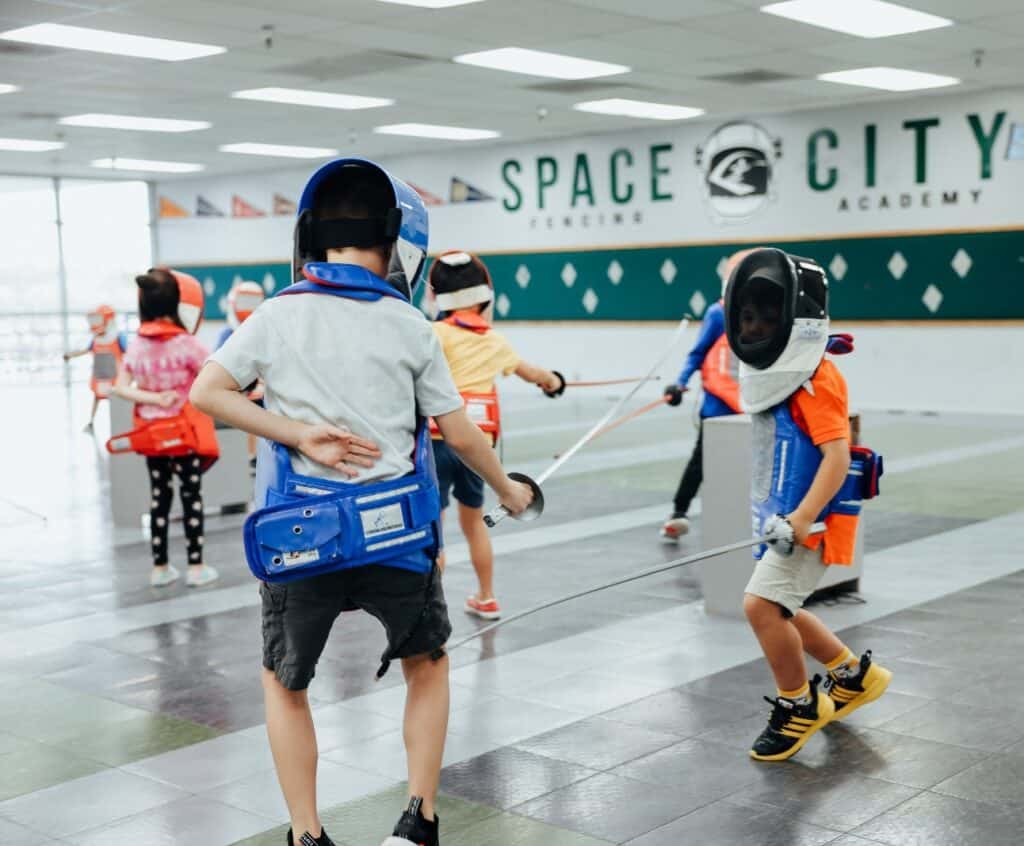 We Offer Fencing Camps In Pearland, Texas
Our instructors proudly offer fencing camps in Pearland, Texas, and the surrounding areas. Pearland is part of Brazoria County, with over 125,000 residents enjoying everything the area offers. Living near Pearland, you may enjoy popular attractions, including The Aqua Zoo, Rosenberg Railroad Museum, or Shadow Creek Ranch Nature Trail.
Frequently Asked Questions
Whether you're new to fencing or have several years of experience, we can answer your questions about our winter break/holiday camps. Here are a few questions we answer for parents. 
What Activities Will My Child Do At Camp?
Our instructors create a well-rounded program for our winter break/holiday camps. They understand the importance of teaching fencing techniques while encouraging a relaxing outlet while school is not in session. Many students want to experience swordplay and still learn how to fence. Our world-class instructors provide that experience for them in a half-day or full-day option. 
Whether your child attends camp for the entire day or a part of the day, they will learn fencing basics and techniques, team-building skills through games, problem-solving skills, and so much more. 
Do You Offer Discounts On Winter Break/Holiday Camps?
We make our winter break/holiday camps available as a full-day or half-day option, making it easier to budget and plan your break. Children can attend for one week or a few days. We offer a 50% discount on regular fencing classes for students who complete one camp session. When you contact our office, ask about fencing lesson discounts.
Register For Camps Today
We invite you to contact Space City Fencing Academy in Pearland, Texas, today to register for our winter break/holiday camps. We look forward to helping your child learn and enjoy the art of fencing in our challenging and encouraging environment.